WASH (Water and Sanitation)

WHAT WE DO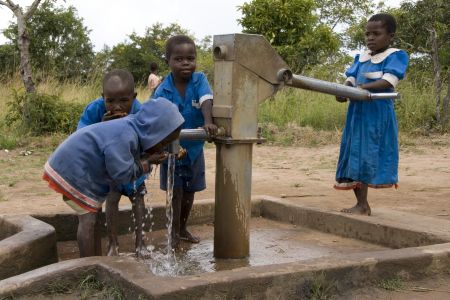 Clean water means better health, especially for children. One in 10 child deaths are due to diarrhea from unsafe water and poor sanitation.  
Water development, especially community water supply and sanitation, has been an essential component of HOPE FOR BURKINA FUTURES INC programs. Our water programming for health and well-being is multi-layered and emphasizes activities that contribute to the improved health of communities, such as domestic water supply, excreta disposal, water quality and access, hygiene education and sanitation promotion, household drainage and community waste disposal. 
HOW WE DO IT
Community participation and empowerment: We develop the capacity of local service providers and communities to ensure sustainable service delivery and improved health outcomes. Local community members are trained to conduct the operations, maintenance and repairs of water systems.
Water supply sustainability: HOPE FOR BURKINA FUTURES INC works to improve access to safe drinking water by rehabilitating or installing new low-cost water supply systems. By involving key stakeholders (e.g. community members, government water departments, civil society and the private sector) in the planning and design, HOPE FOR BURKINA FUTURES INC works to ensure that the new or rehabilitated water systems will not just serve a community for a few years, but indefinitely. 
Strong programming & messaging: HOPE FOR BURKINA FUTURES INC WASH programs focus on the single most important lesson learned throughout the world: water and sanitation facilities on their own do not automatically result in improved health. The correct and sustained use of facilities is what ultimately leads to disease reduction and healthier children. 
Household latrine use: More than one-third of the global population — some 2.5 billion people — do not use an improved sanitation facility, and of these 1 billion still practice open defecation. HFBF has made significant strides to improve latrine coverage at the household level. HFBF believes household latrines are better utilized and maintained if they are built and heavily paid for by households themselves. HFBF has supported successful ecological sanitation projects in Africa by the promotion of the Arborloo. This is a closed loop system that allows waste to be used as a fertilizer once it is composted.
Hygiene promotion: Understanding why it is important to use and maintain water systems and practice good hygiene is essential when it comes to preventing water and sanitation-related diseases. Hygiene promotion activities in Africa and Asia use various communication channels to ensure the right type of message reaches the appropriate audience. These could include household visits, meetings with community leaders, and local events like dramas, songs and competitions.  
School water and sanitation programs: HFBF supports programs that ensure children have the appropriate tools to practice good hygiene that will keep them healthy and in school. Key aspects are active Parent Teacher Associations (PTA) and Student Health Clubs. 
Continued support by word of mouth: For behavior change, HFBF promotes Children's Hygiene and Sanitation Training (CHAST) for children between the ages of 5 and 15. A variety of educational activities and games help kids draw a link between personal hygiene and good health. HFBF expects these hygiene messages will not stop with the children, but will reach back to the homes and communities where the children live to influence hygiene practices among families.